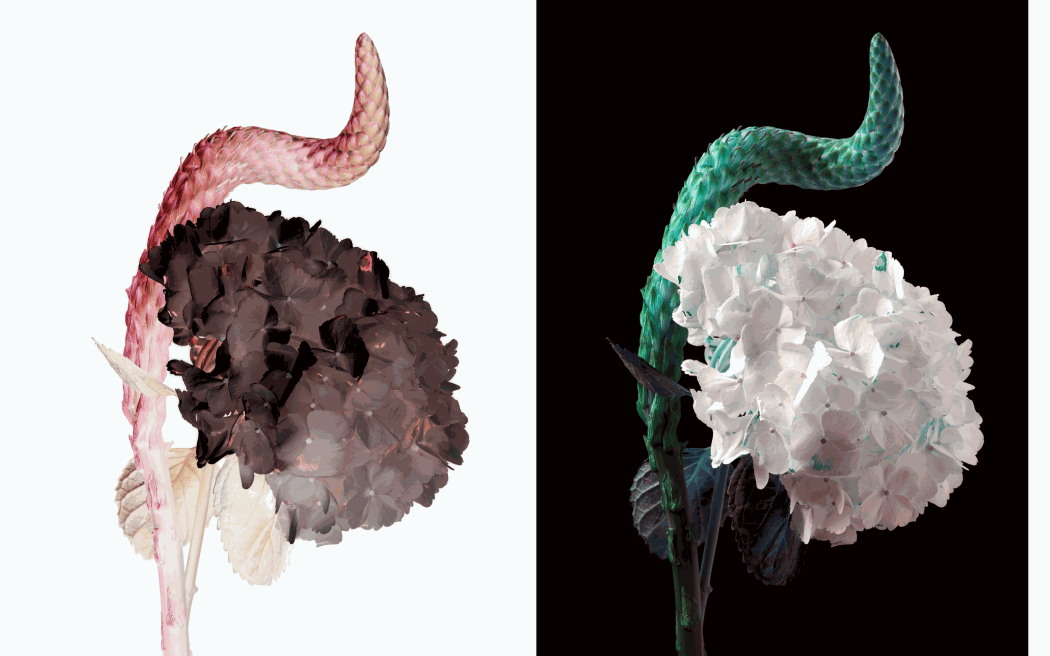 Tanja Lažetić is a visual artist who never settles for just one way of artistic expression – in her work, she uses everything from photography, installation, video, to performance art and ceramics. Apart from her diverse artistic projects, she's been researching the format of the artist book since 2006 and has already published 24 since then. Her books are in some of the biggest museum collections in the world; her most recent one, 100 Flowers, was published in 2020 in a collaboration of Galerija Fotografija and Didakta. She is currently working on a limited-edition print series, which will be available at a special price for a limited amount of time. Below is the conversation we had with the artist, in which she gives the younger generation advice on how to begin publishing at all, answers why artists should publish books, how to self-publish artist books, and why working internationally is important.
1. Why does an artist choose to create artist books? What are the advantages and disadvantages?
Books are exhibition spaces. We think of exhibiting a work of art in a gallery or a museum as the final stage of artistic creation. On the contrary, I'm convinced an artwork, which is presented in a book, can surpass the memory of an exhibition in the form of a catalogue – or at least it's not mere documentation, but rather a work of art in its own right. While an exhibition guides you through space, a book convinces with its title and its cover. It has to address the reader, spark interest in them, and somehow lure them to open it. When planning a book, we usually start at the beginning – but it turns out very little people actually read a book this way. Professionals, the only ones usually being librarians, go through a book page by page, from the beginning to the end. The majority of people, however, open a book somewhere in the middle, flip through a few pages, and only if what we see is convincing, our time is dedicated to reading it.
The size of the book and the ritual of opening it can be a limitation or a challenge. Form follows content – that's why we want to display it in its entirety, including with an appropriate shape, format, typeface and graphic elements. For example, I designed the book dedicated to my mother as a circle. The inner pages of The Potato Leaf are folded and that's how we open them, too. The book contains photos from my mother's garden, destroyed patches, dried potato leaves, … It's all somehow connected – personal information is mixed with general facts about gardens. Above all, I wanted the circle to symbolise the circle of life and the continuous rhythm of food growing. This is of course just an example – the book dedicated to migrations is entirely different. The black and white photobook Migrants has no covers. I cut them off using small scissors, so it's possible to see every single cut of the missing covers. Without protection, a book becomes sensitive, which coincides with the delicate topic of migrations. By transforming the covers when designing a book, it's possible to restrict the way of opening a book and browsing through it. Last year, I went into the other extreme and made a book, which was impossible to open, since it was taped together with sellotape. The cover displays my name in dull pink letters as well as the number 100, which is the title of the book, but says nothing of its contents. Readers are invited to cut the tape of their book and in a way "claim" it this way.
Among others, your books are in MoMA Artists' Books Collection and Tate Collection of Artists' Books. How come they became a part of these prestigious collections and do you have any advice for young photographers who are just starting to publish their first artist books?
I started making books because I didn't have the opportunity to exhibit. I thought I can develop ideas this way instead of only stumping my feet in one place. The majority of books I did at that time was handmade and published in very limited editions. At the time, I was collaborating with Galerija P74, which exhibited my books at prominent book fairs from Vienna to New York. At one of such fairs, the members of an international group ABC, Artist's Book Cooperative, took notice of me and invited me to join them. For a few years, our love of books joined us, we exhibited our work at international fairs, debated passionately, broadened our knowledge and met people, who mean something in this field. At one of the fairs, I met Martin Parr and Gerry Badger, who first included my photobook Whore into Phaidon's historical overview A History of Photobook, volume III. Later on, the entire collection was bought by the museum Tate and this is how Whore became a part of Tate's Collection of Artists' Books. Another two of my photobooks, Coloured People in Black and White (Yellow) and Nine Swimming Pools Behind a Broken Glass, are in MoMA's Artists' Books Collection. They were first included in the overview Various Small Books and later exhibited in three different galleries of Gagosian Gallery, namely in New York, Beverly Hills and Paris. In the end, they made it into some important private collections, including MoMA's Artists' Books Collection.
My advice to young photographers would be exactly this. Find like-minded people, collaborate, connect, and above most be active internationally. The world is too small for artists or photographers to only work in their local environment. By saying this I don't mean one should root themselves out. On the contrary, I think we must never forget where we come from and who we are. We shouldn't be self-sufficient in a small, safe and sleepy land. It's a challenge, if not a necessity, to step out of your safe environment and put yourself on view to the international public. There are different paths, but I believe perseverance is always rewarded.
What is the relationship between your artworks and your books? Are they conceptually very different or do they somehow complement each other?
Presenting an artwork in a book or in an exhibition space is complementary in my work. I sometimes first conceive the idea of a book and later develop it into an exhibition, sometimes it's the opposite. Most often, a book is an equally important element of a gallery presentation. The close connection between photographs and books has always been there throughout history – first photographs were made to be presented in a book. When prints became an option, first printed and framed photographs were hung on walls, while large prints are an invention of recent decades altogether. From small, black and white photographs in books, the history of photography takes us to various experiments in the field of photography printing, from collages, prints on canvas and compiled objects. Artists today truly have a wide range of possibilities when it comes to discovering the boundaries of media and exploring different expressions.
My work includes a variety of media – besides photography and books, there's also video, ceramics and performance art. I often compose an artwork by first taking it to smaller pieces, either ripping, unstitching, cutting, breaking or otherwise destroying it, and then put these smaller pieces together to form something new. I understand putting the pieces together as a way of looking inside and understanding the world. I made a series of self-portraits, in which I attempt to "recognise" my own body by stitching together ripped pieces of photographs. Years ago, I made a photograph of the night sky every single night and (influenced by One Thousand and One Nights tales) finished the project upon reaching 1001 photos. Another time, I printed an eye on each plate from a series of 100 plates, which were made in countries that don't exist anymore. During the timespan of the exhibition, I let the plates fall to the ground. One of the series I exhibited many times is 6 and 9 Swimming Pools Behind Broken Glass, which focuses on swimming pools from my childhood behind broken and plastered glass. And then there are books. Swimming Pools are made into a book, and so are four hundred photographs from Migrants and Berlin Zoo, 1965–2006 series. In the latter, I present a photograph of a lion, which my grandma took 39 years ago, together with my identical photograph of a lion, which I took in 2006. By juxtaposing the two photographs, I question what, if anything, changed during the points in time in which they were made. The two almost identical photographs were exhibited numerous times, sometimes with a book and sometimes without it. When I think about it, the majority of my artworks actually is presented in a book, but last year was the first time I used a book I bought as part of an exhibition. Olympia is a series of nudes dedicated to Manet's painting Olympia. At the exhibition, I placed a biography of the woman who posed to Manet as Olympia on the floor. The woman is often described as a prostitute, but the biography discovered that she was in fact an artist. This is where we get to my most well-known book Whore. It's an intervention inspired by Sanja Iveković's Tragedija jedne Venere (The Tragedy of a Venus), in which she compares herself as an artist to Marylin Monroe in order to criticise the stardom system. I stamped both of them, Monroe and Iveković, with a red stamp saying 'whore'. Each copy of Whore is handmade and the act of stamping is sometimes executed as a performance. All in all, yes, books are always part of my artworks, but the ways in which they are included in the artworks are different.
In collaboration with Galerija Fotografija, you are currently working on a new project – a special edition sale of prints, which will only be available for a short time around your birthday. Can you tell us more about what the project means to you and why it's so personal?
Flowers are one of the most beautiful things in the world. It's quite easy to compare them to the body, and because they only bloom for a short time, they remind us of our transience. When I began to work on the series of flowers three years ago, I was looking for a way to shed a different light on this very popular subject. Thinking about the beauty ideals of our time made me take photos of single flowers (isn't it interesting, that we describe something beautiful and youthful as being "in bloom"?), find the best angle or view and them digitally modify them to make them more perfect. For the first exhibition in Galerija Fotografija, they were printed "larger than life" on a big format. Later, I wanted to also present them as a series of one hundred photographs, and as large archival prints would be too financially demanding, I decided on smaller formats on regular paper. To still emphasise their difference, I taped them to the wall with red tape. After the exhibition (they were exhibited three times so far), I tore up the temporary prints and stored the rip-ups into a transparent box, thus somehow "preserving" the exhibition.
For two years, I was convinced that when I would've concluded a series of one hundred flowers, I would be finished with them forever. But that's not how it works with flowers. Last year I started frequenting flower shops again, and soon found a new challenge. I started to think about photographing two different flowers together. Florists know that that's not how it works and they won't sell you two different flowers by themselves. But the challenge was here: a series of two flowers was made. Placed one next to the other, they fill up the in-between space, touch, hug, kiss each other… I was looking for contact, which couldn't be taken for granted in the past two years. Together with Galerija Fotografija, we've decided to produce a special edition of five images, digitally modified to make up ten in the end, each containing two flowers. They would only be available for the time around my birthday. From 8th March, to my birthday on the 14th of March, when I'll turn 55 (a useful number for a series of two flowers in an edition of ten, otherwise not at all), to the end of the month, it will be possible to choose from ten smaller flower duets in Galerija Fotografija. In a way, the flower images, holding and kissing each other, also symbolise my desire for this depressing period of the pandemic, which has been haunting us for the past two years, to end.